Bill and Carol Goss were absolutely wonderful as clinicians at the Palm Springs Roundup, as any of the Mesa folks in this photo will attest. Thanks to Kaye West for organizing and providing the photo. (click the image to see it full size):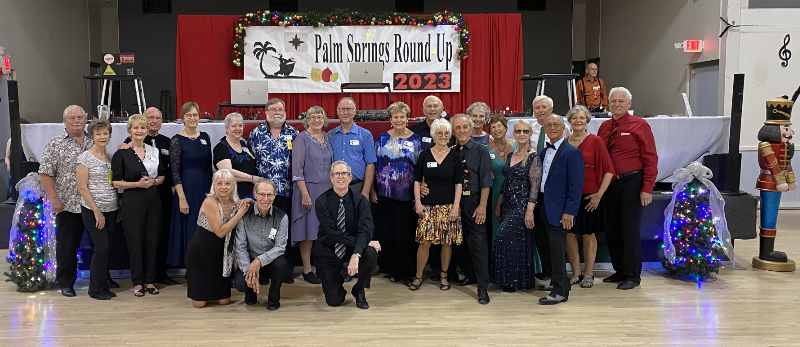 Here's another reminder that there are a few pre-season dance opportunities:
Chuck and Sandi Weiss' next Round Dance Party will be October 6 [Flyer]
Larry Cave's ballroom dance lessons, described below, begin this Thursday September 28
Note that the Dodge's are postponing the beginning of their season as Leslie recovers from a knee tune-up. More details on their schedule will follow.
---
Five free sessions of Larry Caves' "Walk In - Dance Out" program will be held at Leisure World #2
beginning September 28 and running until October 26. [Flyer]

The five free lessons will be:
Thursday Sept. 28
Thursday October 5
Tuesday October 10
Thursday October 19 and
Thursday, October 26.

The schedule for each night is:
6:30 (organizing first week; review other weeks)
7-8 = class
8:00 instructors available for added questions.

All held at Leisure World Rec 2 Ballroom

Larry Caves is the instructor.

All are welcome; registration is encouraged. See the flyer for more information.

---
The preliminary schedule for next season is out.
Here's the Brochure
, and here's my attempt to visualize how the season will begin:
How The 2023-2024 Season Begins (tentatively)
Friday, Oct 27
9:30 am
Weiss
LPG
Phase 4 Workshop
Sunday, Oct 29
7:00 pm
Goss/Hurd
LW2
Welcome Back Dance Ph 3/4/5
Monday, Oct 30
10:00 am
Hurd
GV
Phase 6 Workshop
1:00 pm
Hurd
GV
Ph 4/5/6 Basic Techniques

Tuesday, Oct 31
1:00 pm
Sperry
BC
Phase 3+ Class
2:30 pm
Sperry
BC
Phase 3/4 Workshop
7:00 pm
Goss
LW2
Phase 4/5/6 Dance
Wednesday, Nov 1
10:00 am
Hurd
LW2
Phase 5/6 Workshop
1:00 pm
Wulf
TP
Phase 4 Workshop
Thursday, Nov 2
10:00 am
Wulf
GV
Phase 5 Workshop
6:00 pm
Hurd
GV
Phase 4/5/6 Catchup Clinic
7:00 pm
Hurd
GV
Phase 4/5/6 Dance
6:00 pm
Sperry
BC
Phase 4/5 Workshop
7:00 pm
Sperry
BC
Phase 2/3/4 Dance
Friday, Nov 3
9:30 am
Weiss
LPG
Phase 4 Workshop
10:00 am
Goss
LW2
Phase 5/6 Workshop
10:00 am
Sperry
TPK
Beginner Waltz
11:00 am
Sperry
TPK
Beginner West Coast Swing
1:00 pm
Wulf
TP
Phase 4/5 Dance
Sunday, Nov 5
2:00 pm
Weiss/Sperry
LPG
Phase 3/4/5 Dance (Next week, Nov 12) [Flyer]
6:00 pm
Hurd
LW2
Phase 4/5 Catchup Clinic

7:00 pm
Hurd
LW2
Phase 3/4/5 Dance
Monday, Nov 6
9:30 am
Weiss
LPG
Phase 4/5 Workshop
10:00 am
Hurd
GV
Phase 6 Workshop
1:00 pm
Hurd
GV
Ph 4/5/6 Basic Techniques

1:00 pm
Sperry
TPK
Phase 3/4 Workshop
Tuesday, Nov 7
1:00 pm
Sperry
BC
Phase 3+ Class
2:30 pm
Sperry
BC
Phase 3/4 Workshop
7:00 pm
Goss
LW2
Phase 4/5/6 Dance
Wednesday, Nov 8
10:00 am
Hurd
LW2
Phase 5/6 Workshop
1:00 pm
Wulf
TP
Phase 4 Workshop
7:00 pm
Goss
LW
Beginning Ballroom West Coast Swing


sign up through Leisure World Activity Office (4 wk sessions, no experience reqd)
To be added to the email distribution list, send your request to
rounddancing@azphx.com
---
Randy and Rose Wulf


Randy & Rose Wulf

April thru Sept;
7616 Redstart Dr SE
Olympia, WA 98513

Oct thru March;
4860 E Main St #D103
Mesa, AZ 85205

His; 360/561-8999
Hers; 360/561-5185

http://www.randyrosedance.com
---
Doug and Leslie Dodge

---
Bill and Carol Goss

billgossjr@gmail.com 858-822-9981

---
Chuck and Sandi Weiss

Web:
http://www.dancewithchuckandsandi.com/
Email:
ouiqrnds@DanceWithChuckAndSandi.com
Fridays
Las Palmas Grand
9:30 to 11:30 AM
Summer Rounds 
---
George and Pamela Hurd

Web:
https://www.gphurd.com/
---
Larry & Susan Sperry
Contact:
https://www.larrysperry.com/contact.html
Facebook:
SperrysCue Dance Club
---